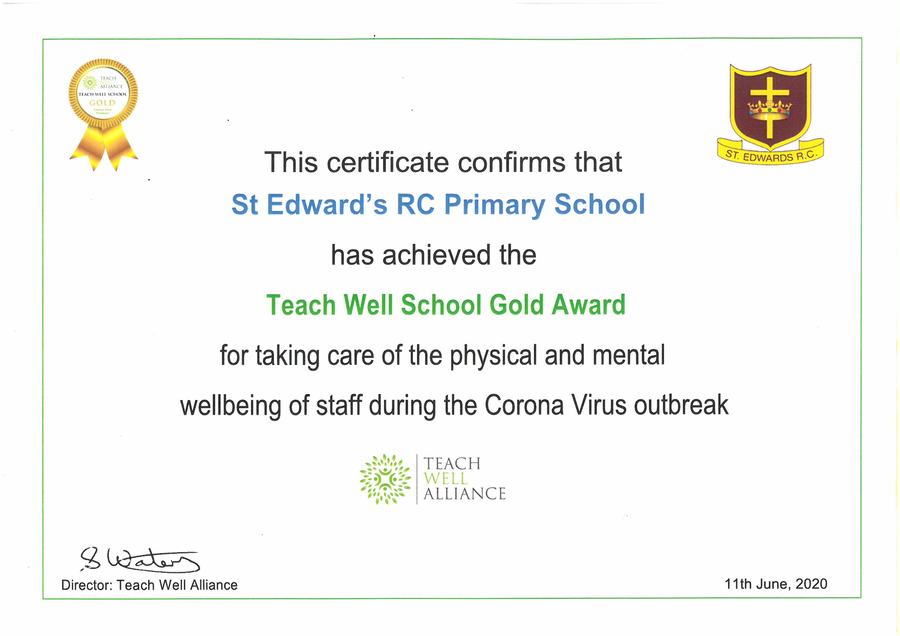 A letter to all parents for the end of the year
Friday 17th July 2020
Dear Parents and Carers,
Today marks the end of the academic year – a year that has been like no other that this school, or any of its families, has had to face before. When I walked out on the yard on that first day in September, nothing could have prepared me for what this community was going to face this year. It has been a monumental challenge and one that has been incredibly difficult and traumatic for all at times.
Throughout the year and especially during lockdown, school has tried its very best to help parents and children and I would like to thank every parent for all that they have done this year, whether it be supporting events in school or facilitating learning at home. Some of the feedback we have received this year about what we are doing well and how we can improve further has been great – we cannot express how much we value the input of our parents and families in making the school the best it can be.
School has only been able to function in the way it has this year because of the dedication, commitment and passion of the staff in school. They have responded to an ever-changing situation with total dedication to the school and its children and I cannot thank them enough for all that they have done. I know how much all staff are looking forward to opening their doors to all children in September and they have worked so hard in making sure our school is ready and looking its best to welcome them back.
We are sad to say goodbye to Miss Kirkup, who leaves us today. Although she has only been at our school since October she has made a big impression and will be missed. I would like to thank her for all that she has done for our school and wish her every success in the future.
Today also marks the day that we say goodbye to our Year 6 children. One of the things that has been the hardest in school because of the current situation is not being
able to give these wonderful children the send off that they deserve. I have written to them separately but I would like to thank them for all that they have done this year;
you are all truly gifts from God. I know that you will always carry St Edward's with you and continue to 'live life to the full' at your secondary schools.
There have been many highlights this year, even though it has been so different. Some of them include our CFOS Sports events, including one held here at St Edward's; the Year 6 residential to Robinwood; our Nativity productions; our Advent prayer day; several events run by our fantastic Friends of St Edward's and many more. Most of all, it is wonderful to watch our children live out our Mission Statement each and every day and try to be living examples of Christ's teachings.
In September, I wrote to all parents on the first day. In that letter I wrote the following: 'I couldn't be prouder writing to you today as Headteacher of our school and your kind words and best wishes have been very humbling. I am thrilled to be leading our school on the next step of its journey and I am excited for the challenges that lie ahead. I know how lucky we are to have such wonderful parents and families in our school community and I hope that this will continue to strengthen in the years to come.'
The last year in school has only made me believe this more. I hope you all have a wonderful summer and I look forward to opening our doors to you all again in September.
God Bless,
COVID - 19 Update
Monday 22nd June 2020

I am writing to update parents on a couple of things happening in the coming weeks:

• September Opening: You may have seen media reports and government comments on school reopening for all children in September. We are looking at how this may be possible in school and we are waiting for further guidance as to what this might look like. At the moment in school, we are planning as though all will be 'normal' and then we will adapt those plans if and when we need to. We would dearly love school to be fully open if it is safe and I will update parents in the next few weeks.

Teachers are carrying out phone calls over the next few weeks for any children who are not now in school. I am hoping that new classes will be sent out in the week beginning 6th July, with some transition information, in place of our normal 'moving-up' day. Reports will also be sent out via email in the week beginning 6th July.

• As many of you already know, one of our children is currently receiving treatment for a Brain Tumour. Her auntie is climbing Snowdon in September as a fundraiser and a Just Giving page has been set up to raise money for the Brain Tumour Charity. School are promoting this and the details can be found by clicking on the link: [ https://www.justgiving.com/fundraising/nicola-adamson6 ]https://www.justgiving.com/fundraising/nicola-adamson6

• There is a Parents Forum, which all parents are welcome to attend on Thursday 2nd July at 5.30pm. The meeting will be via Zoom and can be found by clicking this link:
[ https://zoom.us/j/94647428519?pwd=NytRYWpLNG5ZeUdpaFFvOFNZa2NQUT09 ]https://zoom.us/j/94647428519?pwd=NytRYWpLNG5ZeUdpaFFvOFNZa2NQUT09
Meeting ID: 946 4742 8519
Password: 640381
It is wonderful that church is reopening for private prayer. The times are Wednesday (10am-12pm & 7pm-8pm) and Saturday (10am-11am). Please not that church is not open this Wednesday. Hygiene and distancing measures are in place and stewards will be on hand to advise you.
As always, please contact us if you have any questions. I hope that you and your families are all keeping well.

God Bless,

Mr McMahon
Friday 12th June 2020
Dear Parents/Carers,

It has been a very strange week in school. Although it has been wonderful to welcome some of our children back and to hear children working, playing and laughing in school, it has also been the week where we have had to inform other parents that we won't see their children until September.

This week, the government has dropped hints about a 'Summer of catch-up.' Whilst no further details have been announced, they are expected next week, it has led to parents wondering what this means for St Edward's school and for their children. I want to clarify today that school will not be open over the scheduled summer break – we will close on Friday 17th July and then re-open to students, under whatever conditions are put in place by then, on Thursday 3rd September 2020. We will continue to update parents on what summer 'catch-up' might look like in this area when we receive additional information.

Work is already underway on preparing for whatever September may look like and I will keep parents informed of any plans that we put in place. This will be a subject for discussion in our Summer Term Parents' Forum, which takes place on Thursday 2nd July at 5.30pm. This will be done via Zoom and a link and agenda will be sent out nearer the time – I'm afraid you'll have to provide your own refreshments!

We will be contacting parents for our new Reception and Nursery classes next week about meetings and we will be informing all children of their new classes – and sending home some transition materials – during this term. Teachers will still be sending an end of year report home, though this will look very different to ones you have received in previous years.

Indications show that schools are some months away from 'normal' yet. However, we will continue to provide learning at home, support where needed and details about what the coming weeks and months may look like as much as we possibly can.

Take care and God Bless,
Tuesday 9th June 2020
Dear Parents and Carers,
A letter was sent out yesterday to all Year 1 children who indicated that they wanted a place when the children return on Thursday. A letter will be sent out on Thursday or Friday for Reception children ahead of their proposed return next week.

Following the Secretary of State for Education's announcement in the House of Commons today, reported widely in the news, I am writing to you today to inform you that, as things presently stand, we have not got the capacity to extend our opening beyond our current plans. That means that children in Years 2 to 5 will not be returning to school this academic year. Also, due to the current restrictions and safety measures that are in place, it will also not be possible for Nursery to return, unless the current guidance were to change.

I know that this may be frustrating for some parents and upsetting for both them and their children. We share your frustrations and we are upset that we will not be able to welcome some children back into school until September. We will continue to provide daily online learning via the Google Classrooms for all children, whether they are in school or not. We are also available each and every day to provide support for children or parents during this time of partial closure.

Our primary concern is the safety and wellbeing of all of our children. We acknowledge that being unable to return to school may be detrimental to some children's wellbeing and I want to reassure you that school will do their best to support you if this is the case.

We continue to act on the most up-to-date guidance from both central and local government and will continue to update parents as and when the situation changes. We are already working on plans for September to ensure we can welcome all children back to school and to ensure that children are not left behind by the time they have been unable to come to school. These will be shared with parents nearer the time.

Thank you for your ongoing understanding and support.

Mr McMahon Headteacher
Mr G Woods Chair of Governors
7th June 2020
Dear parents/carers

I apologise for contacting you over the weekend but I wanted to further update you on the situation in school. You may have seen in the news this weekend that there are concerns that the R value has risen above 1 in the North West. You may have also seen that some local authorities have subsequently delayed the reopening of schools.

Oldham Local Authority have encouraged schools to open as they planned this week. As a result, we still plan to open our doors to Year 6 and key worker children tomorrow and I am hopeful we will welcome Year 1 back on Thursday. I am confident that the measures we have in place ensure that staff and children are as safe as they possibly can be in school. I will be meeting with other Headteachers and council representatives on Monday afternoon. After this, I will be consulting with Governors as to whether we need to review our plans further.

I also understand that some parents may have further reservations about sending their children to school at this time. As a parent, I completely understand and school will support you whatever you choose to do.

The situation changes by the day and I appreciate your understanding. The messages of support and gratitude from parents towards school during these weeks have been so welcome.

I will write out to parents further on Monday evening.

God Bless,
Mr McMahon